Level 3000 bat with two top quality carbon layers permit an aggressive and fast game of attack. Type of Player: Attack.
Wood: Competition Carbon (5CC)
Handle: concave
Rubber: Liga
Sponge: 2,1mm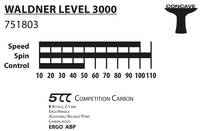 Features
The ABP allows an individual adjustment of the balance point of the bat to suit individual styles of play. Head balanced: weight distribution towards the head of the bat offering more striking power for an offensive style of play. Handle balanced: weight is distributed closer to the handle of the bat allowing more accurate shots and ball slicing for a controlled style of play.
The Ergo handle fits anatomically perfect to the hand, handle and bat feel to be one! The rounded shape of the Ergo part avoids pressure in the hand and provides a particularly